FAQ: Getting Started with IPP

It just three step, you can use IPP  to submit your listing to 5 TOP Property Portal & 30 Social Networks  and Property Forum for free.
Trial account is identical with Premium account in term of features, performance and services.
Drawback: 15 Credit daily, means you only can submit to top four Property Portal 15 times a day.
Advantages: No Limit on publish to 30 Social Network & Property Forum.
We same amount time you publish in any Property Portal but we able to duplicate it 15X + 30X social Network.
Trial account is 100% working TOOLS, that is no different between Trial & Premium, in term of Functionality, adding Property, Submitting Property*  and Submitting Summary Report.
*Trial Account only allow submit to 10 Listing perday to Top Property Portal –
http://my.IpushProperty.com/ (Internet Brand Building Is Unlimited)
Yes trial account is limit by 10 listing perday, but is free with no catch.
For rm 0.99 cent perday upgrade + our Tool DATABASE system, you able to blast your listing 100 time per day at any time and repeated.
Remember this is Just Beginning of our tool, you will enjoy more in future update.
Step 1; Download & Unzip
Just download the files (below), once download completed, just click IPP ICON to install.
*** Min requirement Windows 7 or above.
1. type DOWNLOAD or click me to direct download **If u open in google Chrome, please check bottom left (show in video).
2. Unzip the files.
3. Open IpushProperty folder and click on IpushProperty.
**** If there is a error about missing Microsoft DotNet Frame work, please click here to download framework.
Step 2: Register and Login
After Unzip, open folder than click on IpushProperty.exe and register your free account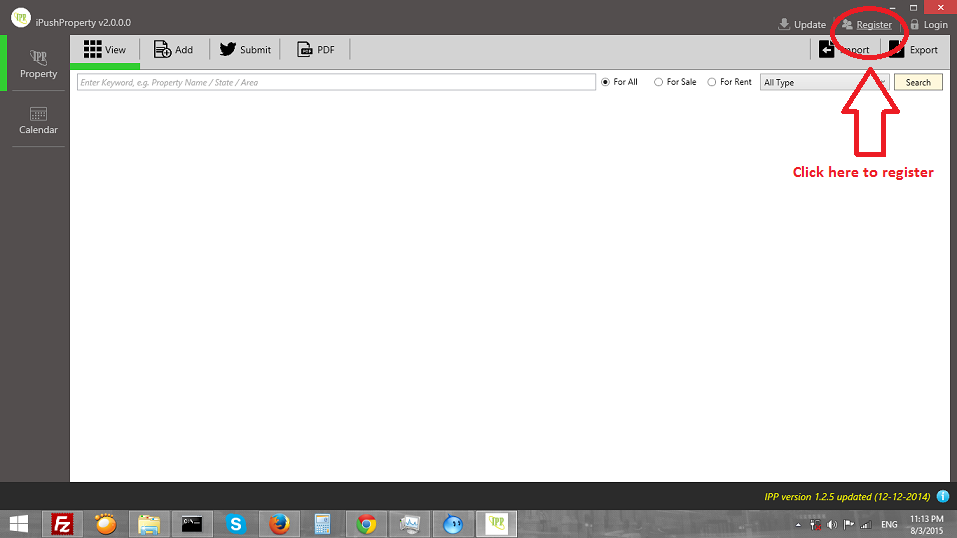 That fill in all information and click SignUp.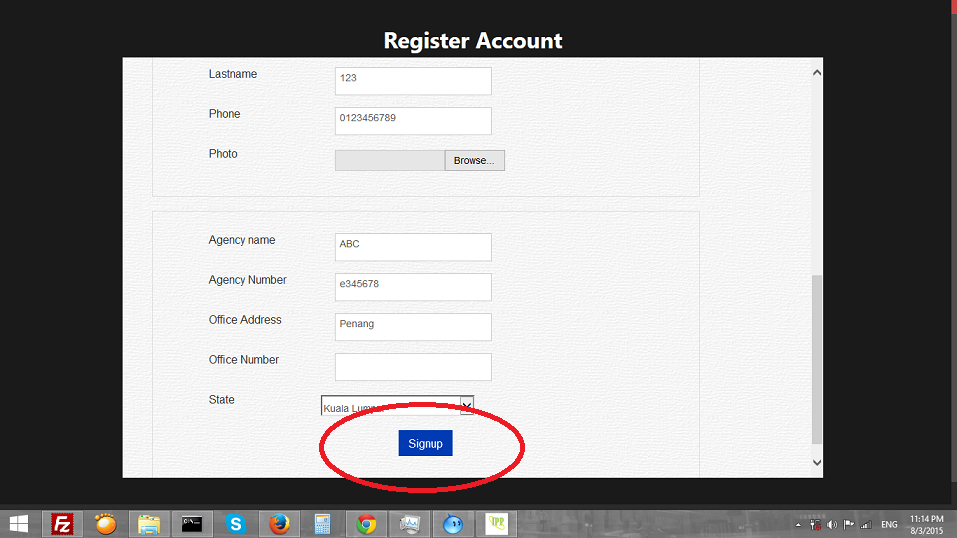 Walah ….
Now Click Login to Login with your username and Password.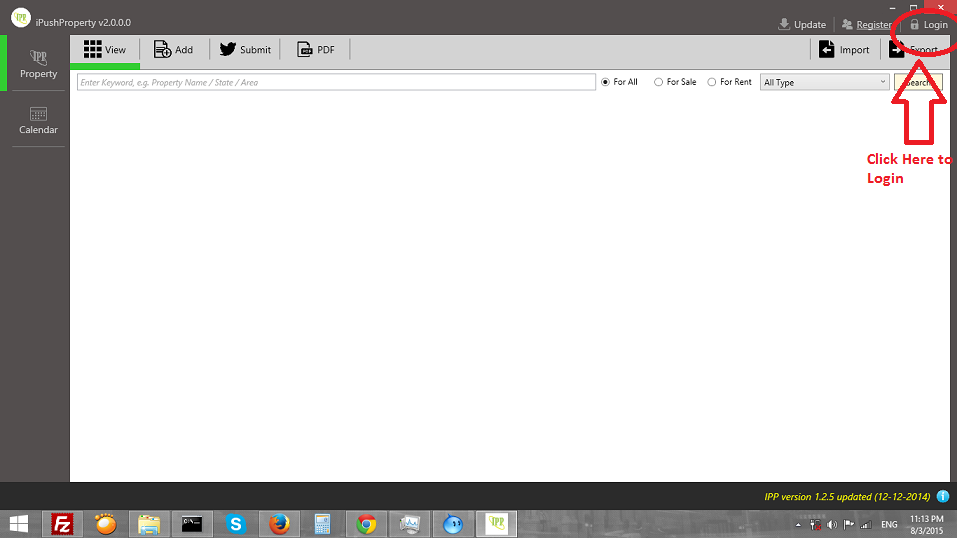 Now you Can move to step 3.
After login, click on my account to save your detail.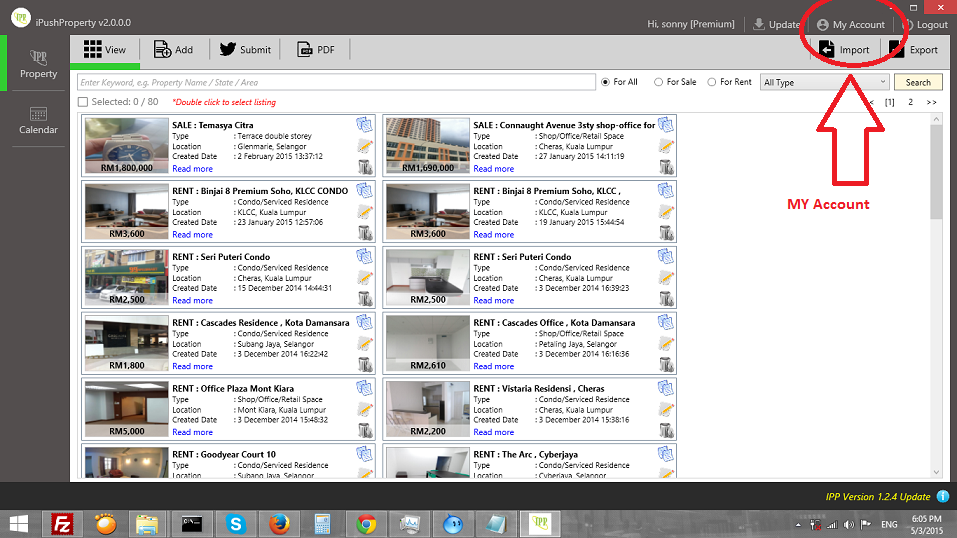 For Trial account,
is 100% free and full features
After My Account, there will be a popup. than click on Link (image below), fill in all detail and click save (this is one time)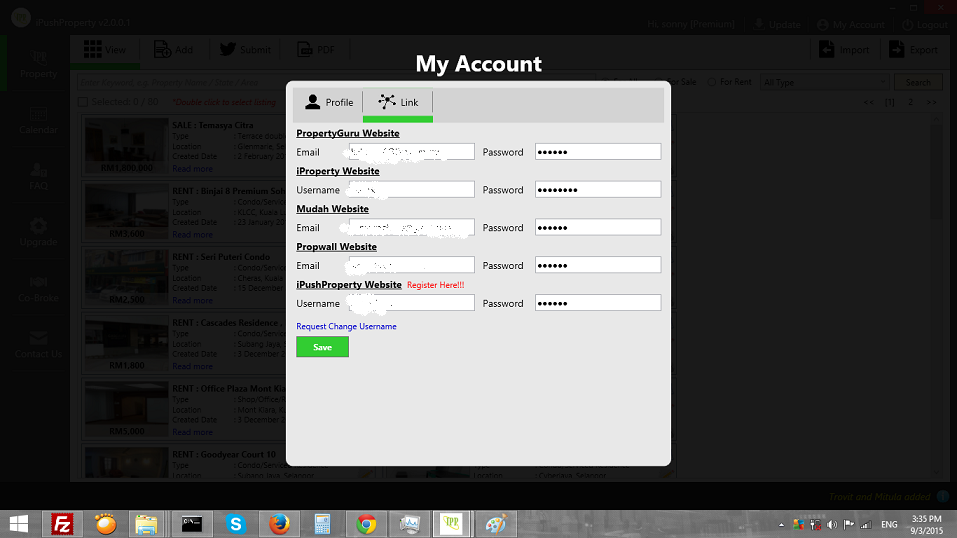 Remember all your other Portal Detail, Username Or Email and Password.
I Push Property is external Social Network Site, so the username is different with IPP software, Just click on Register Here!! to get your account.
And you done.
Continue below step, if you don't understand how to create new listing and submit.
FAQ: How to Setup & Add Property